Bible Block of the Month Classes
September 2021 - May 2022
Join us as we grow our Faith to be RED HOT!
Because faith has a mysterious element to it our quilt project will be a MYSTERY!  Here are some clues about the quilt we'll be making this year:
Clue #1: The design is a 2 color quilt using only 4 different fabrics plus the background.
Clue #2: There are NO flying geese to make.
Clue #3: There is NO applique
Clue #4: There will be something new each month.
Clue #5: The finished quilt measures 75″ x 88 1/2″
"I've prayed for this one thing for years and it hasn't happened. The Bible says all things are possible for the one who believes. What's wrong with my faith?"
"Some days it's easy for me to trust the Lord. Other days, no matter how hard I try, I question whether God will help me. Even other days I forget God, go my own way, and try to run my own life. How can my faith be more consistent?"
"I'm in a very unpleasant situation. Should I boldly pray that it changes? Or, should I stick it out and trust God to bring good out of it? Which one is faith?"
If you have ever struggled with these or similar uncertainties about faith you'll find good company in the pages of the Bible.
Our study this year will alternate between studies of people and studies of faith's essence as taught by faithful people. We'll meet Abraham, Naaman, David and Paul, imperfect people whose faith grew through testing. We'll see Jesus, both the perfect model of faith and the One who invites us to have faith in Him
DATES & ADDITIONAL INFORMATION
Classes will be held at the Living Threads ministry center on the 2nd full week of each month
Cost is $25/month
There are five classes to choose from with a maximum of 12 participants per class.
Tuesday from 1 to 4 pm & 6:30-9:30 pm
9/14, 10/12, 11/9, 12/14, 1/11, 2/8, 3/8, 4/12 and 5/10
Wednesday from 1 to 4 pm
9/15, 10/13, 11/10, 12/15, 1/12, 2/9, 3/9, 4/13 and 5/11
Thursday from 10 am to 1 pm and 1:15 pm to 4:15 pm
9/16, 10/14, 11/11, 12/16, 1/13, 2/10, 3/10, 4/14 and 5/12
LEVEL:  Advanced Beginner (knowing a sewing machine, 1/4" seams,  rotary cutting and pressing experience necessary)
REGISTRATION:  Contact Jill at Living Threads 748-6505 or email at:  jill@livingthreadsministry.org
ON SITE CLASSES INCLUDE:
Use of Babylock "Katherine" sewing machines
Cutting stations equipped with mats, rotary cutters & rulers
Ironing boards and irons
Bible Study and sewing facilitators along with refreshments
Christian fellowship with amazing women!
YOU WILL NEED:
CLASS KIT: $35
2″ Triangles on a Roll

Tucker Trimmer Ruler

Bible Study Book


Quilt label
(It's recommended to have a Quick Quarter Ruler and a Frixion Pen. If you do not have these, they are available in our Gadgets Galore Store.)
Previous Bible Block of the Month Quilts
2019/20 Sermon on the Mount Sampler Quilt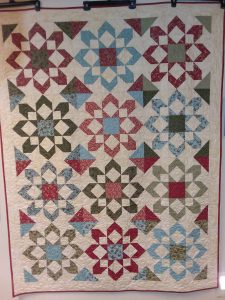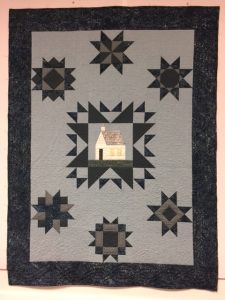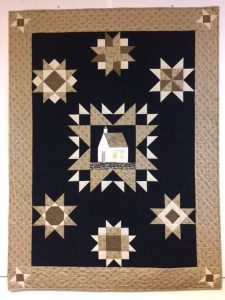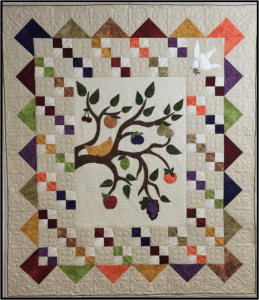 Fruits of the Spirit 2018/19
Heart of the Psalms 2012/13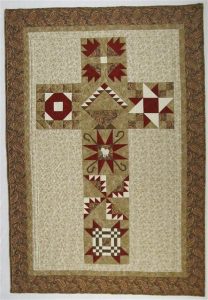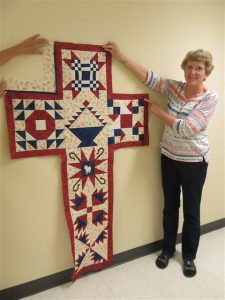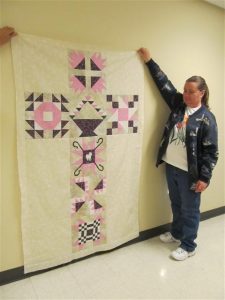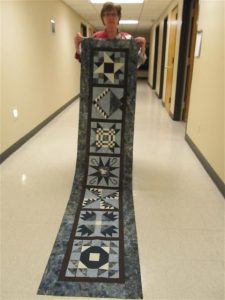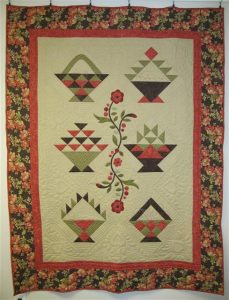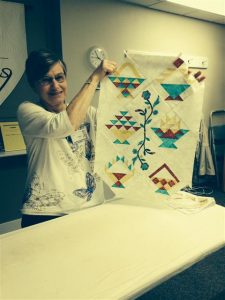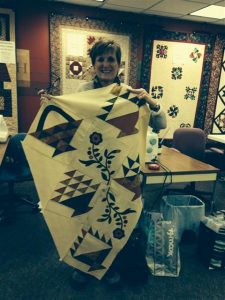 Women of the Old Testament 2014/15