Bible Block of the Month Classes
BIBLE BLOCK OF THE MONTH CLASS
September 2019 - May 2020
Come and learn from Jesus, just as His disciples did, as we study Matthew 5 – 7, The Sermon on the Mount
Jesus utters some of the most familiar passages in all of Scripture in Matthew, Chapters 5 – 7. Jesus touches on 20 different topics in thse passages. Since we are studying a "sampling" of His teaching, isn't it appropriate that we make a "Sampler" quilt for this study?
Most of us have only encountered the Sermon on the Mount in fragments; the beatitudes, judging others, fasting, murder, do not worry, love for enemies, etc.  But what if we navigated these three chapters in Matthew as they were originally heard–as one cohesive, well-ordered message? A message intended to challenge us to think differently about what it means to be a follower of Jesus, a citizen of the kingdom of heaven? This nine session study authored by Jen Wilkins will give you the opportunity to do just that.
Use of Babylock "Katherine" sewing machines
Cutting stations equipped with mats, rotary cutters & rulers
Ironing boards and irons
Bible Study and sewing facilitators along with refreshments.
Bible
Fabrics
Thread
Class Kit**
**Class Kit: $42 ($68 value!!)
"Sew Straight" Guide
1 1/2″ x 2″ HST Stencils
Frixon Highlighter
Quilt book with 12 patterns (It's a surprise!)
Bible Study Book
Quilt Label
DATES & ADDITIONAL INFORMATION
Classes will be held at the Living Threads ministry center
on the 2nd full week of each month
There are five classes to choose from. A minimum of 9 students are needed to hold a class.
Tuesday from 1-4pm  and from 6:30-9:30pm
9/10, 10/8, 11/12, 12/10, 1/14, 2/11, 3/10, 4/14, 5/12
Wednesday, 1:00 -4:00pm
9/11, 10/9, 11/13, 12/11, 1/15, 2/12, 3/11, 4/15, 5/13
Thursday, 1-4  &  6:30-9:30pm
9/12, 10/10, 11/14, 12/12, 1/16, 2/13, 3/12, 4/16, 5/14
LEVEL:  Advanced Beginner (experience with basic quilting techniques:  1/4" seams, machine piecing, rotary cutting, pressing, etc.)
QUILT SIZE: 58″ x 73″
COST:  $25/month
REGISTRATION:  Contact Jill at Living Threads 748-6505 or email at:  jill@livingthreadsministry.org
**A kit is necessary to make the Sermon on the Mount quilt and is available through Living Threads for a discounted cost of $42. **Once you are registered a supply list will be given to you.

**When you register, we are holding your place for the entire year, therefore, you are committing to pay for all 9 months whether you are ill, gone on vacation, have a personal scheduling conflict, or class is cancelled due to weather.
Previous BBOM Class Photos
Fruits of the Spirit – 2018/19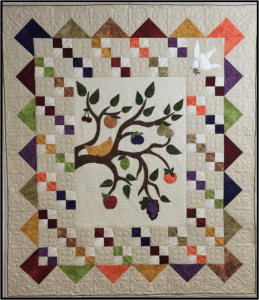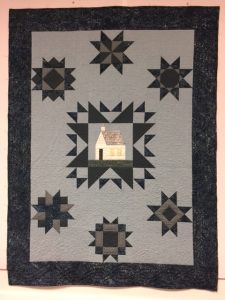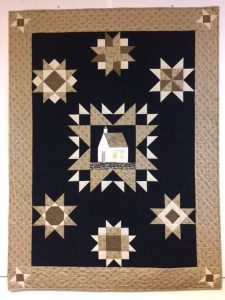 "Waiting for God" – 2015/16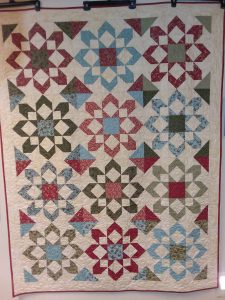 "Women of the Old Testament" - 2014/15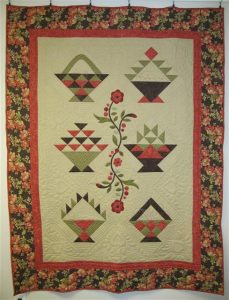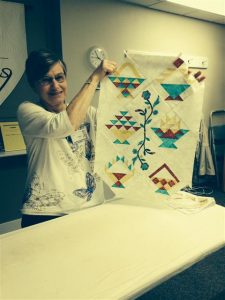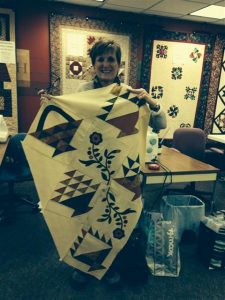 "Names of Jesus" - 2013/14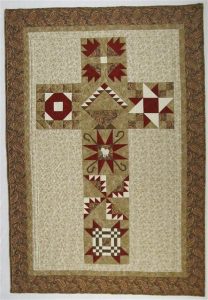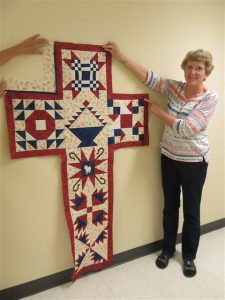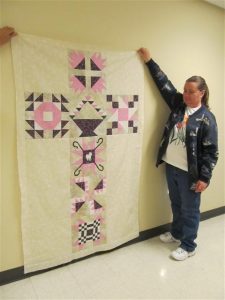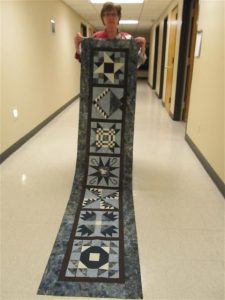 "Heart of the Psalms" - 2012/13
"Bible Sampler" - 2011/12