Donate
Double Your Dollars & Reveal the Mystery Quilt!
Dear Friends,

I've just returned from Kenya and couldn't wait to share this news with you! Earlier this year I announced the opening of our 7th Bible club which began in February 2019. I had the privilege of visiting it while in Kenya and I'm pleased to report there were so many children attending, it was full! The trained teachers and cooks are in place and excited to serve the children and most importantly share Jesus with them.
Because you support Living Threads, I know we share a common goal of loving children who live in extreme poverty and spreading God's word to those living in the Kibera Slum. Because of your help over 600 children can eat hot meals in the safety of the Bible Clubs funded through Living Threads. Did you know that the Bible Clubs only serve children ages 3 to 13? Because we care about all the children we don't want any to fall through the cracks because they have aged out.
That's why I'm delighted to announce that Living Threads was able to fully fund a new program called "Adolescence Life Skills Forum" which began in April. Over 124 teens attended day one of this two day forum and 114 teens came back for day two! Even more thrilling is the fact that 33 teenagers gave their lives to Jesus! The next forum will be held in August with follow up visits happening between meetings.
I've just learned that some generous friends of Living Threads have agreed to match your donation dollar for dollar from now until Labor Day for the first $11,000 that we receive.  Your $50 donation becomes $100! That's a 100% increase on your investment into the Kingdom work of Living Threads.  Where else could we get that kind of interest on any of our investments?
UPDATE: We're halfway to our goal, but the work isn't done. The September 2 deadline will be here before you know it and we still need to raise over $5,000. Watch our Living Threads Facebook page for current updates!
I'd like to invite you to "sow" (sew) with us by purchasing a virtual quilt block (or more) at a cost of only $43 per block.  As blocks are purchased the hidden design reflecting God's faithfulness to Living Threads and those in the Kibera Slum will be revealed. You can watch the quilt design unfold on our Facebook page and website (www.livingthreadsministry.org). When all 256 blocks have been purchased we will have made our match and the entire quilt design will be revealed! 
I am so humbled and thankful for our kindred hearts that care about the grieving, children in poverty, and spreading of the gospel!  You are God's building blocks, making it possible for this ministry to continue.  What an awesome God we serve!
Serving and sharing Christ's love,
Jill Dannenberg
Executive Director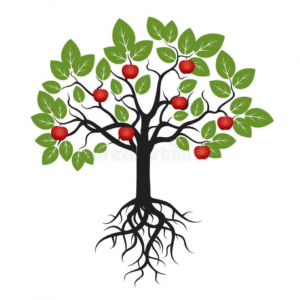 Miraculous things happen when God's people invest in His Kingdom. Sewers invest their time, using their skills to serve the grieving; families invest their money by donating for volunteer hours put into making their memory quilt; the fruit of His kingdom buds as children in Kibera benefit from donations. We can only imagine what more God will do!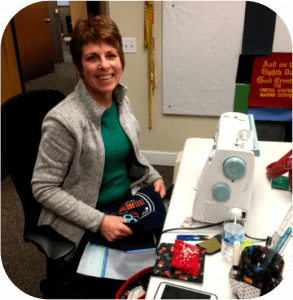 Volunteer quilters like Katie spend one to two days per week piecing and praying for grieving families.
Volunteers form the branches of Living Threads, bringing comfort to those who are in desperate need of comfort.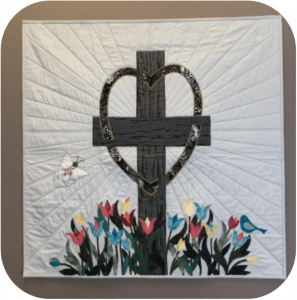 Finished quilts tell the stories of the person they honor. This quilt story tells of a deep faith in Christ and a simple love of tulips and her Dutch heritage.
In gratitude, a donation is made to the ministry based on the number of hours that volunteers spent making their personalized quilt.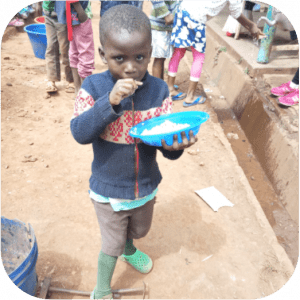 Quilt recipient families make donations to Living Threads based on the number of volunteer hours that go into making their memory quilt. 
100% of that donation goes to children living in desperate poverty in the Kibera Slum, Nairobi, Kenya.
Your gift to Living Threads brings hope to a grieving wife, husband, parent or child which in turn gives life to children in the Kibera Slum of Kenya. You bring comfort and healing to the grieving. You give the children of Kibera nourishment for their hungry tummies, a safe and loving environment, but, most importantly the opportunity to hear about salvation through Jesus Christ.
Thank you for choosing to support the ongoing work of Living Threads. Because of your sacrifical gift more families and children will experience the joy of knowing others care about their pain and are willing to help!

BUDGET………a word that often causes us to cringe but it's a necessity to be good stewards of the resources God has entrusted to us.
Our "Circle of Friends" give monthly to help meet those "budgeted" expenditures that allow Living Threads to exist.
Would you consider sacrificially giving $10, $20, $30 or more per month? This could be done through your debit/credit card or bill pay.  Your monthly support would be an important investment in God's Kingdom work to help us serve the grieving, suffering, needy, and poor.  To become one of our special "Circle of Friends" please (click here) to print the form to register.
Shopping With Purpose….Help Living Threads earn $1,000!  
It's simple: either drop off or mail your original Family Fare and D&W receipts to help us collect 150,000 points. Spartan will then donate $1,000 to us!