Bible Block of the Month Classes
BIBLE BLOCK OF THE MONTH CLASS
September 2018 - May 2019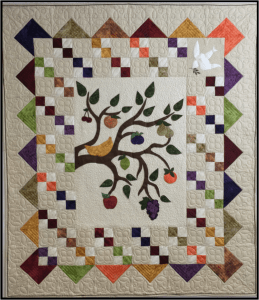 "But the fruit of the Spirit is love, joy, peace, patience, kindness, goodness, faithfulness, gentleness, and self control. Against such things there is no law." 
How could a worthwhile study be written about a single virtue that was explained by only one word? It is exciting to realize that all these virtues are inside each Christian because the Holy Spirit has taken up residence within us. But how are these fruit lived out in practical ways? Instead of studying these virtues in the abstract we will study them lived out in Scripture. Then perhaps we will get a handle on how, in similar fashion, each fruit could be worked out in our own lives.
Join us as we learn how each fruit becomes more meaningful as we experience life in a deeper relationship with the Giver of these fruit.
Bible Study Book, "Fruit of the Spirit"
Use of LT sewing machines (feel free to bring your own if you prefer)
Bible & Quilting facilitators
Cutting & Ironing Stations
Refreshments, fellowship and amazing women!
(kit cost is discounted at $40 and available through Living Threads)
The Charming 5 Square by Creative Grids
Turbo 4-Patch ruler by Creative Grids
1 1/4 yds of 24″ w Steam-a-Seam Lite
Iridescent dove fabric
DATES & ADDITIONAL INFORMATION
Classes will be held at the Living Threads ministry center the 2nd week of each month (except for September *)
There are five classes to choose from. A minimum of 9 students is needed to hold a class.
Tuesday from1-4pm  and from 6:30-9:30pm
*9/11, 10/9, 11/13, 12/11, 1/8, 2/12, 3/12, /9, 5/14
Wednesday, 1:00-4:00pm
*9/12, 10/10, 11/14, 12/12, 1/9, 2/13, 3/13, 4/10, 5/15
Thursday, 1-4pm  &  6:30-9:30pm
*9/13, 10/11, 11/15, 12/13, 1/10, 2/14, 3/14, 4/11, 5/16
LEVEL:  Advanced Beginner (experience with basic quilting techniques:  1/4" seams, machine piecing, rotary cutting, pressing, etc.)
QUILT SIZE:  59″ x 68″
COST:  $25/month
REGISTRATION:  Contact Jill at Living Threads 748-6505 or email at:  jill@livingthreadsministry.org
**A kit is necessary to make the Fruit of the Spirit quilt and is available through Living Threads for a discounted cost of $40. The deposit will be applied to your first class.  Fabric requirements will be given when registration and deposit is received.  All classes are held at the Living Threads ministry center located at City on a Hill in Zeeland.

**When you register, we are holding your place for the entire year, therefore, you are committing to pay for all 9 months whether you are ill, gone on vacation, have a personal scheduling conflict, or class is cancelled due to weather.
Previous BBOM Class Photos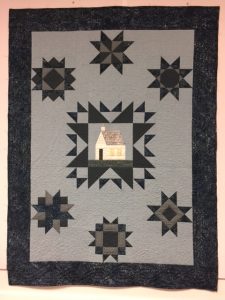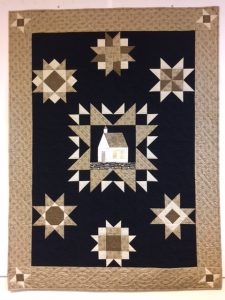 "WOMEN OF THE OLD TESTAMENT" - 2014/15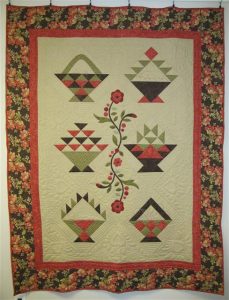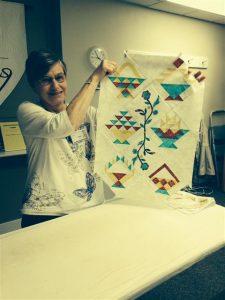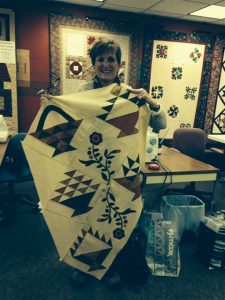 "NAMES OF JESUS" - 2013/14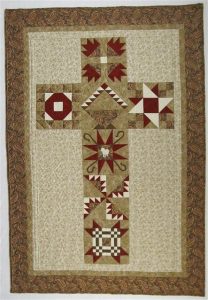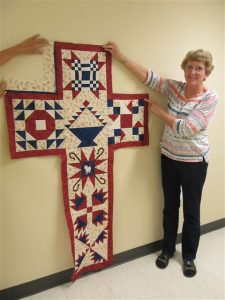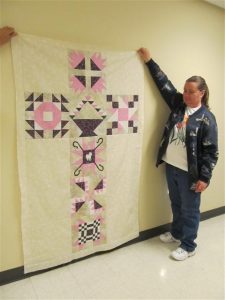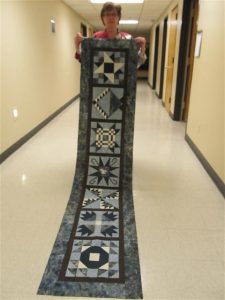 "HEART OF THE PSALMS" - 2012/13
"BIBLE SAMPLER" - 2011/12